Original Bioscal
Deep shine colour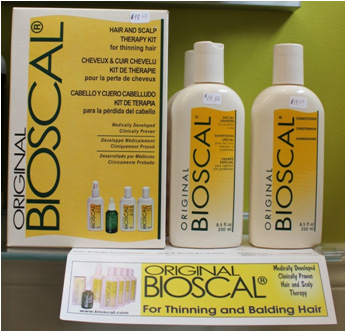 Medically Developed for thinning hair that is clinically proven.
Bioscal hair and scalp treatment has been used to successfully treat thinning hair, hair loss, balding and to stimulate hair re-growth. Improves the condition of hair, scalp and hair follicles.
Bioscal contains ingredients that harmonize the normal physiological processes of hair growth by removing old hair and residue from clogged hair follicles, thus allowing unhindered and healthy hair growth.
The process stimulates the blood circulation in the scalp. Good circulation is important as it ensures the hair roots to receive sufficient nutrition and oxygen to stay healthy and produce vigorous hair.
Come into to the salon today to purchase your specific formula today!